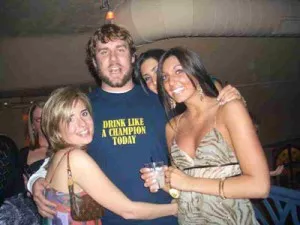 I used to be a fan of football. I loved watching men in tight pants knocking the shit out of each other.
That was until this story about Pittsburgh Steelers quarterback Ben Roethlisberger started gaining more yards than Emmitt Smith in his prime. I'm throwing a flag on the NFL. It took two accusations of sexual assault for the all-mighty commissioner Roger Goodell to request a sit down with Roethlisberger. He wasn't slow to move in the case of dog fighting when it came to Philly QB Michael Vick.
The manager of the club where Pittsburgh Steelers quarterback Ben Roethlisberger is accused of having sexually assaulted a 20-year-old Georgia woman said Thursday one of the woman's friends told him a member of Roethlisberger's entourage had denied her entrance to the area leading to the bathroom where she believed the accuser and Roethlisberger were that night.

The accuser told police later that night Roethlisberger had assaulted her in the club's bathroom.
So, this is all right? Big football players can sexually assault women and expect no discipline from the NFL? Just don't fuck a woman against her will at a dog fight?
When Vick was accused of dog fighting, his punishment was swift. And we're talking dogs. Does the NFL mean to tell me that the league has more of a value on the life of a dog than a woman's right not to be sexually assaulted? And this isn't Roethlisberger's first trip down this road.
For the second time in a year, Pittsburgh Steelers quarterback Ben Roethlisberger is being accused of sexual misconduct. . .The case comes as Roethlisberger faces a lawsuit filed last July by a woman who says he raped her in 2008 at a Lake Tahoe hotel and casino, an allegation he strongly denies. Roethlisberger, who was not in custody, has not been criminally charged in either case and has claimed counter-damages in the lawsuit.
Look, where there are smoking panties, there is rape. Why is this being laughed off?
He is known for other stupid things too, according to ESPN:
he also is known for occasionally inelegant behavior in Pittsburgh. Early in his career, he was photographed wearing a T-shirt reading "Drink Like a Champion." Restaurant owners in Pittsburgh have complained he has tried to skip out on bills.
This guy has a problem and the NFL should lose female fans behind this.