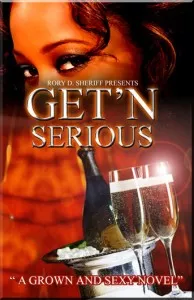 Erotic author Rory Sheriff has been weaving a tale about a character that may seem as if it's him, but readers take note, Sheriff is not Dontae "Serious" Moseley. Sure, they share a radio background, but the rest is just the author's imagination at work.
And if you liked what Serious did in "Get'n Serious," which was released in 2006, then get ready for part two.
Sheriff spoke with Creative Loafing about erotica, fans and his upcoming releases.
Creative Loafing: Introduce us to your work.
Rory Sheriff: My first book [Get'n Serious] is about a radio personality and he's trying to find his way in life. He's a bachelor, he's financially stable. He has everything, but he just doesn't have love. It's one of those things where there's this one girl in his life and he over looks her. She's actually the one and he goes through a lot of trials and tribulations and women just to find out that love was right there in his face.
Where do you find inspiration to write erotic novels?
I pull it from a lot of my fantasies. I'd like to say Dontae is my alter-ego. If I am fantasying about something, I just write it down and I'm just blown away by some of the stuff. I'm afraid to share it with somebody and tell them, so I just turn it into a book. It keeps me out of trouble and keeps me from looking like a perv. (Laughter)
What has the reaction been to your book?
It's been great. My core audience is women. Erotica is something that is flying under the radar, it's so big – yet so taboo. But the response to it is so incredible.
Why do you think so many of your fans are women?
Well, women are expected to act a certain way in public, thus the term a lady in the streets and a freak in the bed. It's a taboo for women to openly be sexual and embrace their sexuality. So, for women to read our books [erotica] it pacifies that want and desire.
Want more from Sheriff? Log on to his web site www.brandnewsheriff.com and look for Get'n Serious 2 this summer.