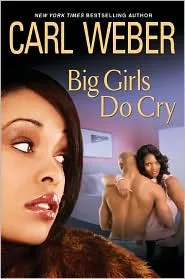 New York Times best selling author Carl Weber knows one thing for sure, big girls don't just need love they get love.
In his latest book, Big Girls Do Cry, Weber takes a look at sexy plus sized women who get the love they want and need. There's drama, sex and did I mention drama in these pages?
Weber talks to Creative Loafing about his writing and the women in his book.
Creative Loafing: Why should reader pick up Big Girls Do Cry?
Weber: Well, a Carl Weber book is an experience. It's like reading a movie in book form. You have emotional highs and lows and you get lost in it.
Why did you decide to bring the Big Girl's Book Club back?
I guess it was the popularity of the previous book. It stayed on the best seller's list for a couple of months.
What is the difference in writing about plus sized women and non plus sized women?
After the initial physical description, you don't know if the characters are plus sized or not. In [the African American community]there isn't much difference in a plus sized women other than she has a little meat on her bones and a size six. They love men, they love women -- depending on what their sexuality is. In some cases when they are around other people, they let you know, look, I'm big and I'm not wearing a little behind bridesmaid's dress that's all tight up on me. But that comes with giving a character personality. . . And really, when have you seen a big girl who doesn't have a man?
What is some feedback that you've gotten on the book so far?
People are loving it. I'd like to think of it as revisiting old friends.
Can people learn real life relationship lesson from your fiction?
Definitely. Every book has some type of social message. You may not realize it. That's where the story pulls around.
Want to get a copy of Big Girls Do Cry? Check out the author's web site, Carl Weber.net or head to your favorite book store.