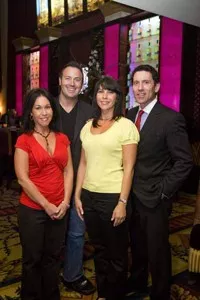 One of Charlotte's most renowned strip clubs is giving to charity. And we're not talking free lapdances, but cold hard cash.
The Men's Club raised $3,000 for the Humane Society of Charlotte.
Brad Fuller, General Manager, Jools Howell, Marketing Director, Nicole Castanas, Waitress and Dina Castanas, Makeup Artist, used their creative ideas for fundraising events.

Their ideas consisted of games at The Dog House, a popular pregame hangout near the Bank of America Stadium, which allowed Carolina Panther Fans to participate at all home games. Kelly Adams, with Pole Dance Charlotte, readily assisted with a special Cat?s Meow Review event that was held at the club, We ended the year with a Doggie Fashion Show which debuted during The Men?s Club?s Staff Christmas Party. Brad Fuller said ?The staff of the Men?s Club and I are committed and willing to give our time, in an effort to help the Humane Society with their efforts to provide animals with food, shelter and necessary medical attention?. Fuller stated ?If I had my way, The Men?s Club would be helping a lot more local charities?. He also went on to say that ?I am extremely pleased with the results and the overwhelming public response?.

On January 14, 2010, Brad Fuller and his staff presented almost $3,000.00 to Cary Bernstein, Board of Directors Chair and Donna Canzano, Director of Development with the Humane Society of Charlotte.

The Men?s Club of Charlotte is looking forward to assisting the Humane Society in various fundraising events throughout 2010.