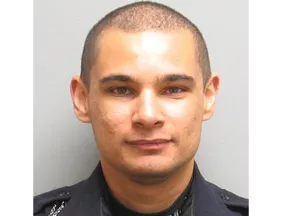 Obviously the fantasy of fucking a police officer in uniform is much more satisfying than the reality of it.
Allegedly, an officer from the Eastway division, Hamlett Almendarez, took a dinner break around 3 a.m. and headed into the bathroom at Fuel Pizza on Central Avenue and banged a hottie. It's possible that she was his girlfriend or hell, for all we know, he met her on Craigslist. But, unlike former CMPD officer Marcus Jackson, this sexual interlude was consensual.
Still cost him his job. And that's not fair.
First, Jackson assaulted women, using his badge as a weapon to get what he wanted from them and even arresting men who were in the car with them, according to media reports.
What Almendarez did was stupid, but not something that anyone with a job hasn't done. It's late, you're horny and you call over some booty. Who hasn't had a boyfriend or girlfriend come up to the job and break them off? Granted, you probably had more sense than to do it in a restaurant's bathroom--unless you worked for said restaurant and was banging a coworker. Don't look at your computer scene as if I'm the only one who has done that.
So, Almendarez is a victim of people who aren't getting any. Yes, I said it.
At 3 a.m. if you're sitting in Fuel Pizza or any other restaurant, more than likely you're going home to have sex with yourself. So, in walks this cop and he hits the bathroom and gets some. That's going to piss you off.
A witness called 311 and told a CMPD Sergeant about the alleged incident. The police department was able to pinpoint Almendarez to the accusation by using the GPS locator on his police car. Almendarez reportedly later resigned from the police department.
I'm sure said witness was salty because the only thing his or her tongue would be tasting that night was pizza sauce. Granted, if you think someone having sex in public and wearing a police uniform is wrong, by all means call 311, it's your right and public sex is against the law, though Almendarez was not charged with a crime and the woman he had sex with hasn't been named or charged to date (and that is so wrong).