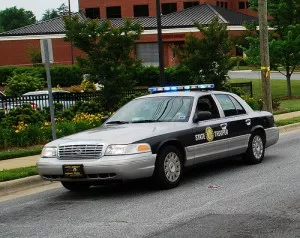 Sex in cop cars.
Sex with wives while husbands watch.
This isn't a sampling of Pornhub videos, it's what's going on in the North Carolina Highway Patrol office.
I'm all for a man in uniform. Hell, that's a major turn on, but State Troopers are out of control with all of these allegations of sex on duty.
Then today, it's reported that the new leader of the highway patrol had his own sex scandal in 1987, while he was a trooper.
New State Highway Patrol Commander Randy Glover took the job with a pledge to police the troopers' ethics. As recently as last month he told them they need to be "morally and ethically beyond reproach."

Glover didn't disclose until Monday that he too had failed to live up to the patrol's standards. He confirmed in an interview that in June 1987, the patrol transferred him out of his Harnett County assignment to another post 120 miles away because he had an extramarital affair.
OK, sign me up. I want to be a state trooper.
It seems that only on this job can you do something like this:
In June, for example, the patrol dismissed Sgt. Timothy White for unbecoming conduct after finding he had a sexual encounter with the wife of a master trooper in the back seat of a car after a Christmas party. The master trooper was in the front seat at the time; White has filed an appeal to get his job back.
And, according to the News and Observer out of Raleigh, on duty sex has been considered by many troopers as " an expected fringe benefit."
Here I thought coming to work and writing about sex all day was a good thing. The Highway Patrol is having sex.
I'm fucking jealous.