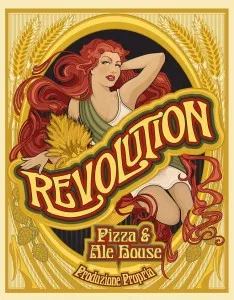 Tuesday night at Revolution Pizza and Ale House in NoDa is "date night." Two people can eat a three-course meal for $20.
It's a great deal and the food is good, but it's not the greatest date place.
For one thing, it's too bright inside the restaurant and outside on the patio. Then there's the music. Occasionally, a slow, romantic song came through the system, but for the most part -- the music was loud and thumping. Not something that you want to hear when you're trying to have a romantic evening.
Though the atmosphere isn't the best for setting the mood for a romantic date, sharing the small dessert at the end of the pizza meal, is sure to get something started.
There's nothing sweeter than a Gelato kiss as you tell your date good night or head to bed with him or her.
Here's a tip, get the appetizer instead of the house salad if you plan to do a lot of kissing on your date -- the salad is good and fresh, but those onions are a killer on your breath. And having the appetizer will give you a reason to ease closer to your date anyway.
And if you are sensitive to cigarette smoke, stay inside. Just about everyone sitting outside last night was smoking.