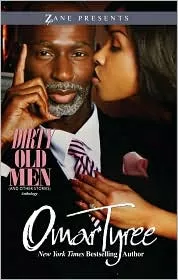 New York Times best selling author Omar Tyree will make his foray into erotic this fall with the release of Dirty Old Men and other stories.
But don't expect Tyree to become a full time erotic author, he just wanted to write about older men and younger women since he's 40 now.
"I'm not in the erotica thing; I just had one subject I wanted to deal with. If you look at the Steve "Air" McNair thing, dying at the hands of a 20-year-old [in July] that's always going to be an issue. I'm not going to be making up erotica books for entertainment. This was something I needed to say," Tyree told Creative Loafing in a phone interview about the book.
Dirty Old Men and Other Stories is scheduled for release next month and is presented by Zane, who can seriously be called the Queen of Erotica. Tyree knew this and that's why he linked up with the publishing maven to release his book.
"I'm not an erotica writer, that's not my style. I had small pieces that I wanted to get out and Zane is an erotica writer, that's what she does and that why I put it out with her imprint because she has that audience for it."
So, how will the Zane faithful take to Tyree's flirtation with erotica?
The stories are sexy, but if you're looking strictly for sex on top of sex, you got the wrong book. "Dirty" actually takes readers into to the minds of older men and why they're drawn to young women.
Tyree said, that's really the point of the book.
"I know it's a lot of different reasons why men get involved with women who are considerably younger than them. You have guys all over the world getting involved with young women," he said.
Initially, Tyree wanted to write magazine articles about men, but he couldn't find anywhere to place them. "Nobody does short stories in magazines like they used to. So, I needed a vehicle to put out masculine short stories," he said. To make these stories marketable, Tyree said he had to turn up the sex.
"My experience in the publishing world has been if you're writing about men, you'd better make it sexual or nobody cares," he said.
With 14 stories exploring what makes old men dirty, Tyree might not make you care, but this collection is sure to start tongues wagging.