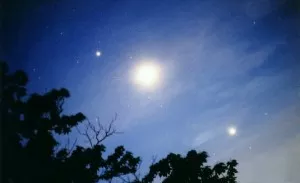 If you've been with your partner for a while, you've done it all and seen enough. But you still have to have do the date night thing. Otherwise you might not get that other thing you want.
So, what can you do that shows thought, creativity and romance -- without having to shell out tons of cash?
Log on to this website first. 4yourdate.com has pretty good ideas about out of the ordinary dates for you and your mate.
My favorite has to be the starry night date.
On a cool evening, take your love outside and spread a blanket out on the ground where you can see the stars. Lay in each other's arms and have a very romantic and cheap creative date idea.
Just imagine what you can talk about while looking up at the stars, maybe sipping on some wine or whatever your favorite drink is. If you decide to have this date in your yard and you have a privacy fence, just think how much fun it will be to make love underneath the stars.
Another interesting date idea on the site is movie night in the dark.
Movie Night in the Dark

: Rent a movie that you and your date have been wanting to see and sit in the dark with candles all around to watch by. This is a cheap and romantic way to spend the evening, and sitting on the floor wrapped up in blankets is a great way to watch a movie.