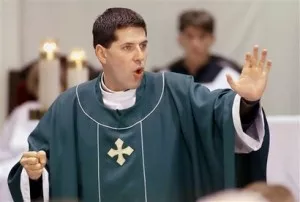 Celebrity priest Father Alberto Cutié is human. So much so that he's having sex, despite the fact that he took a vow of celibacy.
Twenty-five pictures of the priest and a woman he's been with for two years recently surfaced and ignited debate about Catholic priests and the celibacy vow. Like a good preacher man, Cutié says he wants to marry his piece of. . .his lady friend.
He says he's mulling his next move, which he says could range from breaking up with her to marrying her. The woman, he indicated, wants to marry him.

Conceding he's become "kind of a poster boy" for the debate over priests being celibate, Cutié said priestly celibacy is good, but should be optional.

Overall, he said he's "deeply sorry" about all that's happened.

Rodriguez disclosed last week that her family in Miami Beach has known Cutié well for many years.

Cutié, a handsome, charismatic TV talk show host, radio personality, newspaper columnist and author known to many as "Father Oprah" is seen in images in the Spanish-language magazine TV NOTAS caressing and kissing a woman. Both were in bathing suits. Sources tell CBS station WFOR-TV in Miami the photos were taken in February.
It's human nature to want to have sex, but when you take a vow saying that you won't, shouldn't you stick to it?