Here's an e-mail we received about the event: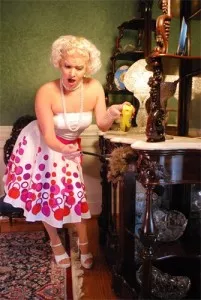 Fanatique de Glam and Feline Entertainment are proud to announce Burlesk! Calendar Girls on May 8th at Artistika Nightclub on S. Elm St downtown Greensboro. This Friday night spectacular is sure to have everything that you could want in an evening of entertainment. With live music, sideshow acts, and teasefully tantilizing talent you cannot find more bang for the $15 cost of admission.
Burlesk! Calendar Girls will be starring well-known local personalities Tiger RoxXx and Selia d'Katzmeow Carmichael, and The musical vocals of Desire Valentine. The exquisite talents of Kara*, Meka le Creme, Moniqui Tiki, Big Mamma D, and more will walk you through the pages of the calendar like you have never done before!!! This showcase of Calendar Girls is one you will not soon forget!
Feline Entertainment & Fanatique de Glam are collaborative efforts of seasoned Burlesque Artists, Tiger RoxXx and Selia d'Katzmeow Carmichael. Together, they have produced such successful shows as Cirque du Enchanteur, performed in the 2008 Fringe Festival, and presented the sell-out production of BURLESK! for the 2009 Greensboro Fringe Festival, as well as numerous other burlesque shows, masquerades, other special events.
For tickets please visit www.meowbabe.com. There you will find merchandise, bio's, and much more!