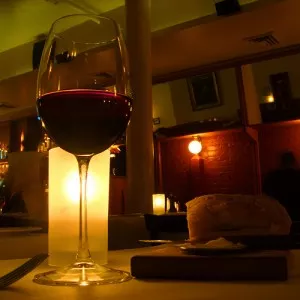 Guys usually say when a woman tells them that her friend has a nice personality that something is wrong with her, hence the need for a blind date.
But no one told my friend D that guys often boost up their friends whom they are trying to hook up. When R gave her the Blind Date's phone number, he said, "He's a really cool guy and you will love talking to him."
"But what does he look like?" D asked.
R shrugged. "Average guy."
It's gotten to the point where we single women are ready to settle for average. Because D didn't ask for anymore details. A few days later, she called BD at my urging. What will it hurt? I'd asked her. Besides, she has pushed me to do many things I didn't want to do and it was my turn to do the same.
D called him and said the conversation was wonderful. "We talked as if we'd known each other for years."
"Great. So, when are you guys meeting?" I asked.
She didn't know. And she was a bit apprehensive meeting him without knowing what he looked like. So, like to damned teenagers, they talked on the phone until dawn and texted each other every morning for two weeks.
One day, I said, "Go out with him already!"
Then that day came when they decided to meet for dessert and coffee. And here's where things get ugly.
D said she and the BD arrived at TGIFriday's in University within minutes of each other. And as discussed, she took a seat a the bar. When BD sat beside her, she ignored him at first. He wasn't her type and she thought her friend R knew that. He was short and pudgy. Not average, borderline below average. He leaned over to her and she flinched.
"Excuse me, are you D? I'm BD."
"Wow," she said forcing her cheerfulness in her voice. "It's great to meet you."
"Let's get a table," he said.
Once they were seated at a table, D said BD was so unfocused, looking around the restaurant at every woman who passed their table. And unlike their phone conversations, talking face to face was more like a chore.
D said sitting there with him, she felt desperate and unwanted. She needed an escape and from the way he was looking around the place, he did too.
After they finished their dessert, D offered to pay for hers.
"No, I got it. Why do you women do that? I asked you out, I can pay," he told her.
"Whatever," she said not trying to hide the fact that she didn't have a good time with him. D said she was about to put her wallet in her purse and he said, "You can leave the tip if you want to pay for something so badly."
She said she glared at his short pudgy self and realized he looked like Mayor McCheese from McDonald's. It took every ounce of self control she had not to call him, McCheesy.
"All right," she said as she dropped a few bills on the table. "Well, it was. . .bye."
D rushed to her car and called R.
"I'm going to fuck you up!" was the message she left on his voice mail.
When D told me the story, I thought, he couldn't have looked that bad. Then she pulled up his Facebook page. All I could do was give her a hug and ask: "You want a Happy Meal?"