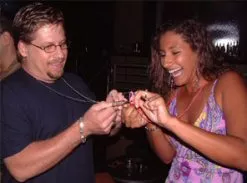 Lock and Key Events.com is hosting a party that everyone will surely be talking about the next day.
Men and women are invited to attend the Lock and Key Party at BlackFinn Saloon, on Feb. 6th.
Unlike the typical Friday night party, you will meet someone of the opposite sex, who's looking for someone themselves. Every woman gets a lock and every man gets a key. The goal is to match the right lock with the right key. When you make a match, you're then eligible to win prizes and you get a new lock or key to get back into the mix. There are about 12 high end prizes that will be given away throughout the night.
More than 100 people are expected to attend and host, Heather Watkins, said she has gotten great response from potential attendees. And guys, she said she could use some more men to sign up for the party.
"This is the first time we've done it in Charlotte," she said Wednesday morning. "We've had an awesome response. We have few more women so we're trying to get a couple of more men involved. But I have a bunch of guys that I personally know that are coming and bring a couple of friends and that will bring up our number. The BlackFinn is such a popular place that once we get there we're going to have a couple of walk-ins."
Pre-registering has it's advantages. According to the web site, if you register and pay on line, the cost is $20. If you just register in advance online and pay at the door the cost is $25. If you just walk in on Feb. 6 the cost is $30.
"Women are more apt to go online and get their ticket paid," said Watkins. "Men are more like, 'I'll just walk in and take a buddy.'"
Watkins said this party is a non-threatening way to meet the opposite sex, and the locks and keys are the ultimate icebreakers for people to start a conversation.
"Instead of the typical Friday night out where you don't really know who's single and available and who wants to talk, everyone is in the same game together," she said. "Walking up to someone and saying, 'Can I see if your lock fits my key and whether or not it fits?' It's an ice breaker.
The party runs from 8 p.m. to 10 p.m. on Feb. 6. Check in is at 7:30 p.m. If you can't make it to the February party, have no fear. Watkins said there will be another party at Suite in March.