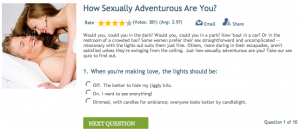 So, I took one of those online sex quizzes today.
Here's my results:
YOUR RESULT: Wild Thing, You Make Your Man's Heart Sing!

Some people sky dive. Others bungee jump. Your adventure of choice is exploring the limits of sexual experience. You're completely open to new things, whether it's bringing edible body paint to bed with your partner, working your way through the Kama Sutra or daring to do the deed someplace you might get caught. So long as you're safe, more power to you. But even as you're twisting into the Indian Headstand or the Balancing Act, just be sure you're contorting for all the right reasons: Because it's fun for you, not simply because you want to impress a randy partner.
But if that's all it takes to be wild, then the author of said quiz must be some sort of prude.
So, I decided to come up with my own quiz. It's simple.
Answer the following questions yes or no. You get two points for each yes and one point for each no.
Do you suggest new things in bed?

Have you ever had an anal orgasm?

Do you swallow?

Have you ever shown up at your mate's house or place of work naked or dressed in a sexy costume--unannounced?

Do you send steamy text messages or e-mails to your partner and act out what you described to him or her on a weekly basis
Here's how to score yourself:
1-5: Maybe you should spice up your sex life; if you have one.
6-7: You have a healthy sex life and you will try anything once or twice. Three times is just overkill for you.
8-10: You are a true wild thing. There probably should be a warning label attached to your ass.