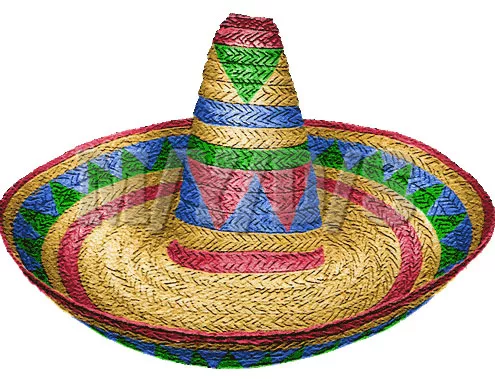 It's time again for our annual list of parties for Cinco de Mayo, a day in which Corona and tequila shots will be taken in high volume all over Charlotte, and girls will think they look cute in a sombrero. (E-mail [email protected] to get your party listed.)
Pre-Cinco (¡Cuatro!)
• Countdown to Cinco Bar Crawl. The crawl starts at Vida Cantina and ends at Suite. Live Mariachi Band all night. First Corona is free for everyone wearing a sombrero. Several giveaways and a lime drop at midnight. May 4. 5 p.m. The Epicentre.
• Dharma Lounge. The weekly Le Bang party becomes Cinco Le Bang for a night filled with piñatas, free moustaches, a stripper pole and guest DJ Flufftronix all the way from Philly. May 4. Free for 21+. $5 for 18+. 1440 S. Tryon St. # 105. www.dharmalounge.com.
Cinco proper
• Alive After Five. This free event is back at the EpiCentre, kicking off Cinco de Mayo. Enjoy cold drinks and warm company. Blackfinn, Suite, and Whisky River will host a free afterparty for participants.
• Bar Charlotte: Round 4 of the 16th annual Barkini contest. Ladies free before 11:30 p.m. w/college ID. $500 cash to the winner. Bring your canned food for the Second Harvest Food Bank. For every can, one ticket for food, drink...your choice! 300 N. College St. www.barcharlotte.com.
• Butter: "Kill the Keg in the Outdoor Patio." Mariachi band. Special $3 imported beer from Mexico, $3 tequila Shots, $5 margaritas. Guestlist: [email protected] 10 p.m. 820 Hamilton St. www.buttercharlotte.com.
• Corona Extra Cinco de Mayo Festival. 25,000 people are expected to come out to this family-oriented event. Featuring national and regional musical acts, carnival rides, a children's petting zoo, pony rides and a variety of food and merchandise vendors. May 5-7, 10 a.m. to 11 p.m. General admission is $8, with discounts available for children according to age. 7940 U.S. Highway 601 South in Concord. http://cincodemayoconcord.com/ACERA-DEL-EVENTO.aspx.
• Custom Home Pubs: Cinco de Mayo beer tasting, featuring a selection of N.C. beers, including Green Man, Natty Greene's and Olde Hickory. $10. 6-9 p.m. 11416 E. Independence Blvd. 704-315-5223.
• Duckworths Grill & Taphouse. Parking lot party. Games and prizes, as well as an authentic Mexican taco bar. Drink specials include: $5 Patron shots, $3 Coronas, $2.50 for most Drafts, and $4 Margaritas, including the housemade Strawberry Margarita, made with Fruli Strawberry beer. Starts at 5 p.m. 4435 Park Rd. (704) 527-5783. www.duckworthsgrillandbar.com.
• Ember Grille at the Westin. Celebrate with $3 Coronas, $3 fajitas, and $5 margaritas while enjoying music by Randy Paul on the new terrace. Giveaways throughout the evening including hotel stays, restaurant gift cards, and spa services. Starts at 6 p.m. 601 S. College St. (704) 375-2600.
• Halo: 3rd annual Cinco de Mayo party. Three DJs spinning bachata, merengue, salsa, as well as Top 40. $3 Mexican Imports, $4 Margaritas, $4 Cuba Libre (Rum & Coke), $100 Vodka Bottles, $100 Moet Rose' Bottles. 10 p.m. 820 Hamilton St. www.haloclt.com.
• Howl at the Moon: Cinco de Mayo fiesta. $1 beers, $4 margaritas. 6 p.m. 210 E Trade St. www.howlatthemoon.com.
• Karma Ultra Lounge: Intensity Thursdays Cinco De Mayo Edition. $1 beer, $2 coronas, $3 vodka, tequilla, rum, $4 KarmaTini's. Free until 11:30 p.m. 9 p.m. 1925 Westinghouse Blvd. www.karmacharlotte.com.
• Loco Lime: 2nd annual Cinco de Mayo block party. There will be mariachis from 5 p.m.-8 p.m. and a DJ from 8 p.m.-11 p.m. 1101 Central Ave. www.locolimecharlotte.com.
• Cantina 1511/Paco's Tacos & Tequila. Both will offer "Mexican beer gardens" and specials, including $2 Coronas, $.50 Coronitas (while they last), and $5 "Miss Kitty" margaritas. At Paco's, patrons wearing cowboy hats will get $5 off their dinners, and proceeds will benefit Pat's Place child advocacy center. Cantina: 1511 East Blvd., 704-331-9222. 7708 Rea Road, 704-752-9797. Paco's: 6401 Morrison Blvd. 704-716-8226.
• Phoenix: Cameo de Mayo. $2 select bottled beers, $3 rita shooters, $5 vodka redbulls. Ladies free before 12am. 18+, special 21+ VIP section. 300 N. College Street. www.phoenixofcharlotte.com.
• Rock Bottom. In honor of Cinco de Mayo, they'll be tapping a cask of the "Mexican Devil's Bigger Badder Brother," an imperial pilsner aged on tequila-soaked jalapeños. 401 N. Tryon. (704) 334-2739.
• Salsarita's: Cinco de Mayo Taco Smash. Come see local celebrities compete in taco-eating contests and enter the raffle for a chance to win autographed sports items, airline vouches, Superbowl tickets and other great prizes. 12 p.m.-3 p.m. at the corner of Trade and Tryon.
• San Antonio's Modern Mexican: First Annual Cinco de Mayo Outdoor Celebration. Fiesta starts at 2 p.m. and continues with live music and dancing. The event will also include a "big surprise." 4331 Barclay Downs Drive. http://sanantoniosmm.com
• Sin City. $1.50 well tequila, $2 Coronas, $3 Jose Gold, $4 Patron. 3205 N. Davidson St. 704-909-7298.
• Snug Harbor: Cinco de Mayo ... Shiprocked. Sombrero-clad gogo chicas, drag, burlesque and fire performances, plus Mexican beer and tequila specials and pinatas. 1228 Gordon St. www.snugrock.com.
• Three Little Birds. Stop by Three Little Birds for an all-day Cinco de Mayo celebration! Margaritas and Mexican food, as well as a candy display. With Mother's Day just around the corner, you can shop for cards as well. 12 p.m.-7 p.m. 2115 Southend Drive Suite 103. 704-379-7778.
• Tilt on Trade: "Que pasa gringos" Cinco de Mayo party. $3 frozen margaritas, $3 Coronas and Corona Lites, $5 "1800" Shots. Come out early for a complimentary traditional "Carne Asada" tortilla buffet. No Cover. 4 p.m.- 7 p.m. 127 W. Trade St. www.tiltontrade.com.
Vin Master: Cinco de Wino. Half off all glasses, which will feature wines of Spain and South America. 2000 South Blvd.; 704.996.7471; www.thevinmaster.com.
• Wet Willie's. $2 Coronita Beer (or $10 buckets), $2 Patron shots, $10 20 oz. souvenir koozie margaritas. Food includes fajita wraps, crispy tacos. Free sombreros, maracas and beeds. 900 Seaboard St. www.wetwillies.com
• Whisky River. $3 Corona/Corona Light, $4 Jose shots, $4 30 Vodka. 210 E. Trade St. www.whiskyrivercharlotte.com.