Whether you're celebrating the season of love with a sexy man or woman on your side, or you're wishing Cupid would just die, there's a party going this weekend for you. Check out our list of all events Valentine's Day or anti-Valentine's Day related.
Friday, Feb. 11
• Ace & TJ's Auction of Love: Benefiting Grin Kids Celebrity Guests at Whisky River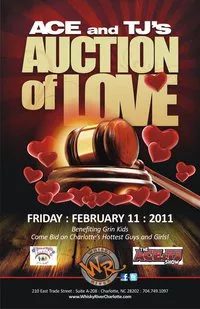 • Carolina Voices presents Love-Sexy: Boheme to Buble Concert at McGlohon Theatre
• Ssshh Sensual Poetry and Jazz "Be My Valentine" edition at Allure
• Reggae Style at Reggae On the Roxx's "First Annual Anti-Valentines Day Party"
• 19th Annual Johnson Valentine Bash at Snug Harbor
• A Valentine Affair at Jet Ultra Lounge
• Pure Fridays with Ladies Night Valentine's Day Edition at Club 935
• Taste-Valentine's Celebration at Loft 1523
• Sugar Glyder's Lovers at Lightspeed album release show at Amos' Southend
• Suite's Kiss My Ass Cupid Anti-Valentines Day Party
Saturday, Feb. 12
• Karma Saturdays: Love Bites Valentine's Day Red Party
• 3rd Annual Couples Valentine Soiree at Charlotte Marriott Center City
• My Funny Valentine Comedy Show featuring Eddie Griffin and George Wilborn at Ovens Auditorium
• Love/Hate Valentine's Party at Mez
• Saturday Night Addiction Ladies Night Out Valentine's Day Grand Finale at Club 935
• Pretty in Pink Valentine's Party at The Sunset Club
• Love Bites Anti-Valentine's Party at Pub at Gateway
• Dixie Tavern's Annual Anti Valentine's Day Party