Apparently, two local Charlotte women think so. And when they created a Facebook page to boycott the Uptown establishment, they garnered 651 "Likes" to the page.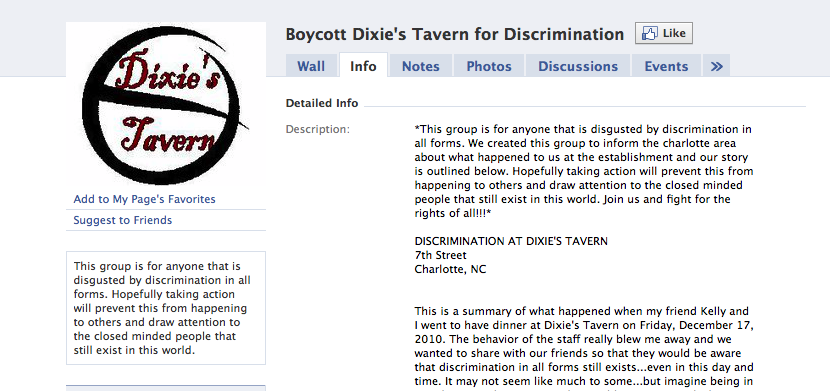 On the Charlotte Observer's site today, writer Eric Frazier reports on the "bar spat."
Two women who launched a Facebook page to organize a boycott of Dixie's Tavern - after they say they were told the bar didn't want to serve lesbians - have won an apology from the manager and a promise of sensitivity training for the staff.

Tracy Thomas said she and her friend Kelly Johnson created the page after visiting Dixie's Tavern on Seventh Street in uptown Charlotte on Dec. 17 about dinnertime. She says they grew upset after about 20 minutes passed and no waiter came to their table, although waiters were serving tables nearby.
Read the rest of that story here.
The management at Dixie's Tavern made the right move in apologizing, whether the women's allegations were true or not. And to ensure the staff will be given sensitivity training suggests they care about their patrons — all of their patrons. Why should one big-mouthed jerk (if he did indeed say what they alleged) ruin the party for everyone?
So, what do you think? Are the folks at Dixie's Tavern closed-minded to minority groups? Or for that matter, have you experienced discrimination at any Uptown bar?