Hello Friday. It's so nice to see you again.
Friday, Aug. 27
• For those of us working on our higher education, school started back this week. Whew. Town Tavern welcomes us back with its :: Back to School Bash ::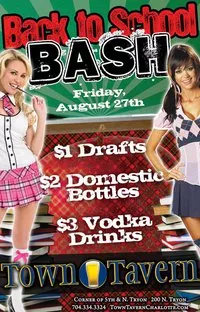 • A night in Vegas, featuring the :: 4th Annual Rockin' With Ribbons Benefitting Susan G Komen For The Cure :: at The Sunset Club
• It's fall fashion show time. First up, it's the :: Rock the Republic Fashion Show :: at Pavilion at Epicentre, featuring Rock and Republic Denim.
• Single Cell Productions brings you :: ALLOY :: at Closet with a special Iconoclast fashion show
• :: Latin International Night :: at Apostrophe Lounge
• It's a ::Foam Party :: at Bar Charlotte!
Saturday, Aug. 28
• :: 6th Annual White Trash Party :: at Ultimate Gym
• Local band's :: The Lights Fluorescent final show :: tonight at The Milestone
• Dharma Lounge and Culture Initiative presents :: Abstract Culture :: an abstract showcase of 3D art and music with musical guest Q-BURNS ABSTRACT MESSAGE
• Power 98's No Limit Larry hosts the :: I Luv Music Weekend :: at The Forum
• :: Kiss :: live at Verizon Wireless Amphitheatre
Sunday, Aug. 29
• Rockhouse Events brings you :: ReFRESH :: pool party at The Blake Hotel
• :: Tea Leaf Green :: performs at Neighborhood Theatre