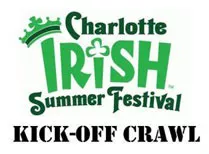 Lo and behold, it's another bar crawl. Will there be green beer?
Rockhouse Events is sponsoring the Charlotte Irish Summer Festival Kickoff Crawl tomorrow night.
Schedule:
6:45-8:00 – Check-In at Dixie's Tavern
8:00-8:45 – BlackFinn
8:45-9:30 – Buckhead Saloon
9:30-10:15 – Alley Cat
10:15-??? – Irish Festival Kick-Off Party in Connolly's Parking Lot (featuring the Fighting 86's)
Tickets are $7 in advance, $10 the day off and includes an official Charlotte Irish Summer Festival T-shirt for the first 100 to purchase tickets, event koozie to the first 200 thru the door, cover charges into all the stops on the crawl, drink specials, and a FREE TICKET to Saturday's Irish Festival.