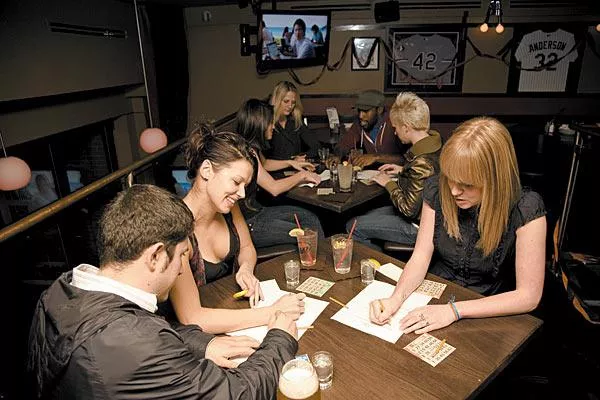 When it comes to bars and clubs, there's one thing you can always rely on (and I'm not talking about leaving with a good buzz, either): There will always be weekly events or promotions. And for a lot of the nightlife hotspots in Charlotte, trivia night is one of the most popular weekly events there is. Since the events are everywhere, you would think that means they are pretty popular, right? Well, when I worked Uptown, guests HATED trivia night. They thought the announcer was too loud, and most of the groups that came out on Tuesdays didn't even participate. After a while, Trivia Tuesdays changed back to just regular old Tuesday nights.
I felt that was a sign that trivia night was dwindling out ... until I checked out O'Shea's Irish Pub. The atmosphere was completely different from my Uptown experience. The space was small and intimate, and the loud, vibrant voices of the crowd greeted you the moment you walked through the door. But when trivia started, the music dimmed and the bar crowd hushed — well, all except for the toasted trivia guy whose answers were no secret to me ... or half the bar. But everyone there, whether overly drunk or sober, was completely involved in the competition.
After two different experiences, I couldn't help but wonder, which experience was closer to the truth? Is trivia still popular, or is it on the decline?
Since the Wild Wing Café (the Epicentre location) was voted the best place for Trivia by Elevate Lifestyle, I figured I'd head over there to find out more about trivia night. Nick Heeter, a manager at Wild Wings, explained that they chose to host a trivia night because it has always drawn in a crowd. "The competition always stirs an interest" Heeter commented. But Wild Wing lives up to its name, making trivia night a little wilder than what you'd expect elsewhere. "We host Twisted Trivia, it's a part trivia, part rated R show. The host dresses in a number of alter egos. In fact, he used to be a mascot for NBA teams, so sometimes he does 3-6 different personalities, with a few being the former NBA mascots." But the best part of the night is the threesome ... and by that I mean the triple trivia hosts: a DJ, a host, and a hostess (But I got you there for a minute, didn't it?).
Norm Randall, the owner at Dilworth Neighborhood Grille, also described trivia night as popular. He said trivia night has been a weekly event since they first opened. "We wanted to build a little excitement, but now, it's expected on Wednesday nights," Randall said. The owner said that they were going to move trivia from Wednesdays to Thursdays, but the customers didn't want to lose the Wednesday tradition. "People really like it and want to keep it going; in fact it's one of our busier bar nights." So now, Dilworth Neighborhood Grille is starting two trivia nights, one on Wednesday and one on Thursday.
Local nightlifer Alison Kushner was equally enthusiastic about trivia night, but as long as there is a group. "I've been to one before, and they're fun if you're with friends."
Another local bar-goer, Karen Harrison, says she doesn't really like trivia. "I don't have a wide enough knowledge of trivia and I can't think on my feet. So I don't like looking like an idiot in front of a lot of people."
Laura Jarvinen said she loves trivia. "I haven't been to a trivia night yet, but I love competition."
So it looks like trivia night is far from being on the decline. Bars and clubs are upping the stakes on their trivia nights, and while bar-goers' reactions vary, the event still gathers a large group of people. After all, there's nothing like a little friendly competition to end the day off right.
As for the rest of my trivia game, I'm always down for showing off my nerdy side. I aced the questions on literary trivia, but as for the other six categories ... let's just say it's a good thing I had a teammate.