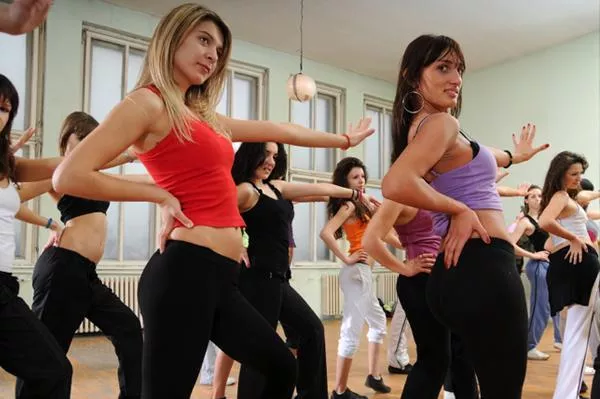 A few Fridays ago, Halo held a Zumba event, with a juice and water bar in place of the usual alcoholic kind. But after dancing the night away, we all need a drink to steady our dancing legs (or at least, I do), so the alcohol did follow the event. However, since my knowledge of Zumba is based on what I heard, I got curious as to what it's all about. Zumba is the latest workout craze to hit the nation, combining "hypnotic Latin rhythms and easy-to-follow moves to create a one-of-a-kind fitness program that will blow you away" (So says the Web site).
Although Zumba is primarily found in a gym, it also fits well in the club scene. So I started to wonder a few things: first of all, could Zumba be the class to fix my two left feet? And secondly, after the event at Halo, could Zumba be a new nightlife trend? I headed over to a class in Union County, my latest place for nightlife, to find out the answer and to get my groove on!
The Zumba moves are sexy and exhilarating, ranging from doing a booty drop to pushing your abs and your ... well you know, in fast pace, thrusting movements. One of my favorite moves was reminiscent of something you'd watch in a hip-hop video. You squat low to the ground, and move your hands in between your legs in succession to the beat. Another favorite was the salsa steps. They were simple, and easy to catch onto, even for my two left feet. I could really get into the gentle back and forth stepping, swaying my hips each time I popped out the next leg.
But it wasn't all hip-hop and gentle salsa steps. One of the sexiest dancing moves I saw was the body roll, where you intermittently swayed and pulsated your hips, while moving your hands slowly down your body. It looked like something Shakira would do, at least, on some of the girls it did.
Looks easy enough, right? But while the girls in the pictures above makes these moves look good, I could only reassure myself of my two left feet. In fact, my sexy dances moves came out more like this penguin's walk:
And I didn't need the other penguin to fall flat on my face, either.
Stacey Moreman, the instructor, was really excited about Halo holding the event. "I know I look the same when I go dancing at a club," Moreman said, laughing and pointing to her dripping wet hair. "We do some of the usual dances, like line dancing and the Cupid Shuffle, that way even if you don't know the moves, you can jump in at those points." In relation to whether Zumba was a new nightlife trend, Moreman said that it could be for women. "Not so much for guys, I have one class with 80 people, only 2 of them guys! So it's good for a girl's night out."
When I spoke to one of the dancers, Tracy Frank, she agreed that it made sense for Zumba to become a nightlife trend. "The music's already there, same with the moves. I know it could really help teach rhythm, too." Similar to Moreman, Frank explained that she liked how Zumba is a little of everything, not just one dance style.
When it comes to Zumba and nightlife, it appears that for now Halo was a test run, but one that the members of my class would like to see again. As for me, I think it would be a great new nightlife trend, but with the private classes offered, too. After all I still have my two left feet, and I don't want to make everyone at the club jealous ... yeah, that's it.
For a list of where to find a class, go here.