As 2009 came to a close and 2010, or as the AP pronounces it, "twenty-ten," rang in, I was lost in a sea of people, flashing lights and loud drunkenness at Halo. And now that I'm sober and reflecting back on the past year, I hope that my new year is just like that: full of life.
By the time my boyfriend and I arrived at Halo (located at the NC Music Factory if you hadn't heard by now) Thursday night for their Eyes Wide Shut New Year's Eve party, all of the general admission tickets were sold out. The only tickets they had available were VIP, and VIP meant you were going to be shelling out $100 to get in. If I knew how to whistle, I'd have done so when we heard that. Needless to say, many of the people who arrived at 11 p.m. hoping to pay at the door the $40 charge (advance tickets were $25 the night before) left. Where they went, I have no idea. I hope they didn't end up ringing in the new year in a cab or something.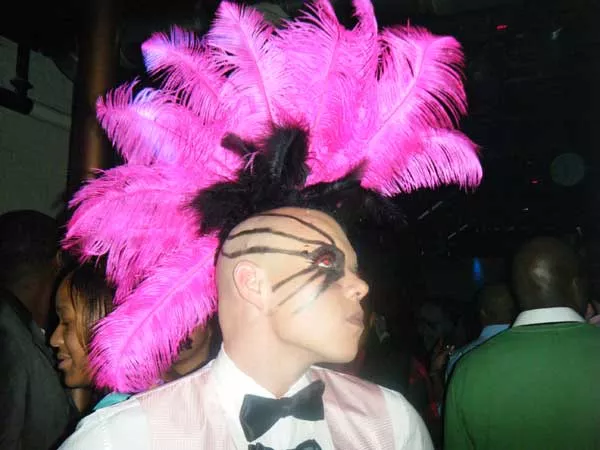 Of course, the venue was packed full of people, but it was a manageable kind of crowd. Sources say the EpiCentre was crazy and that traffic in Uptown was horrible, so I have to say I'm happy with my choice for NYE partying. I hate trying to two-step in a club and end up bumping into people; what's worse is bumping into sweaty people who might have broke it down a little too hard on the dance floor, if you know what I mean. But that wasn't the case at Halo, for which I'm grateful.
Not many people wore masks to the party — it was supposed to be a masquerade party, right? — but a few people got into the spirit of things, as pictured. (Had my boyfriend and I decided for sure what we were going to do BEFORE New Year's Eve, we might have had the chance to go to Party City and get masks. Alas, Party City closed early that day.)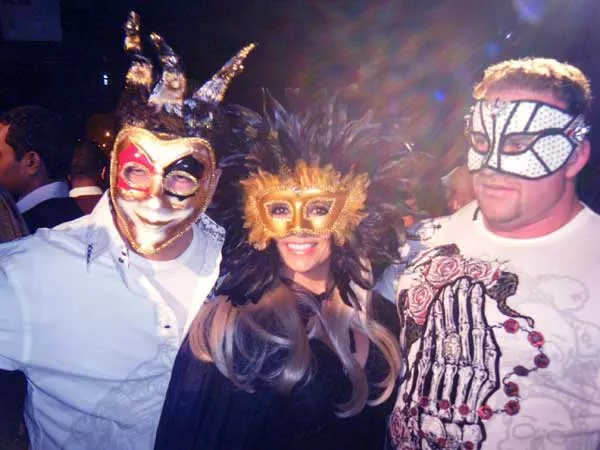 The DJ played music for the masses, focusing on top-40, hip-hop and pop — anything that gets hips gyrating and hormones rushing seems to be a plus, as there were many a couple who were pretending to have sex on the dance floor. Were we one of them? I'll never tell. On a night like this, creative musical genius goes out the window for DJs, but hey, they're getting paid mad money, so I don't feel too badly for them.
One downside to the party was the wait to get a drink, but I guess that can be expected. For future references, just double-fist it. Two tequila shots and two Captain and Diet's, please! And FYI: When it's busy like that, being a busty blonde doesn't make much difference, as the bartenders tend to only make eye contact with Jack, Jim, Captain Morgan and other bottles of liquor.
And of course, when the clock struck midnight (which I'm not entirely convinced was on point because earlier the DJ had announced there were 15 minutes left to NYE, but a quick glance at my phone showed me actually 10 minutes were left), the drunken kisses began. And they continued through the rest of the night. Some couples — maybe in an alcoholic stupor? — may have even thought themselves invisible from the rest of the world, the way they were making out against the wall.
We ended up leaving early — catching a cab on New Year's Eve was going to be a bitch, and we figured an early start couldn't hurt. We missed the $2,010 money drop, which was advertised to happen at midnight and didn't. A reliable source indicated to me his suspicions that the amount of money dropped from the DJ booth onto the awaiting crowd after we left was not actually $2,010, but then again, he only managed to pick up $3. And someone pushed him over.
I think the three best things about this year's NYE celebrations for me were that 1) No one stepped on my feet 2) I woke up hangover-free and 3) There was no drama to be had in my camp. As my Twitter friends say, FTW! (One guy we ended up sharing a cab with when we left relayed his revenge plan against his girlfriend who was drunkenly flirting with everyone in the club. He would return to the hotel alone that night, forgive her in the morning, and fuck someone else the next night. Wow.)
And for you, dear readers, I hope the same rings true for you this new year — that you'll go out and dance without people stepping on your feet, that no matter how much alcohol you consume, you'll wake up the next morning hangover and regret-free, and that drama, whether it be personal or not, be kept to a minimum. Happy twenty-ten!