The story of how I came to appreciate the art of Over Under, Labrona, Gaia, Tom GreyEyes, and Jetsonorama began 10 months ago. I was out at the Elizalde Concrete Company Ruins, traipsing around and taking photos. Something in me, boredom perhaps, drew me many miles off the road. I got out to stretch my legs and found perhaps one of the better far-flung art hotspots I've ever seen. It doesn't look like much at first: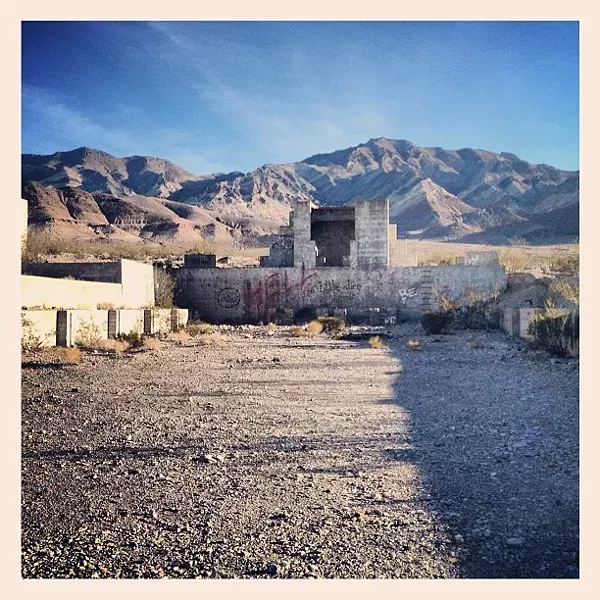 I first noticed this, which immediately made me wonder if I was safe. Upon closer inspection, I discovered these were paintball splatters, not bullet holes.
And then, it just kept getting better and better: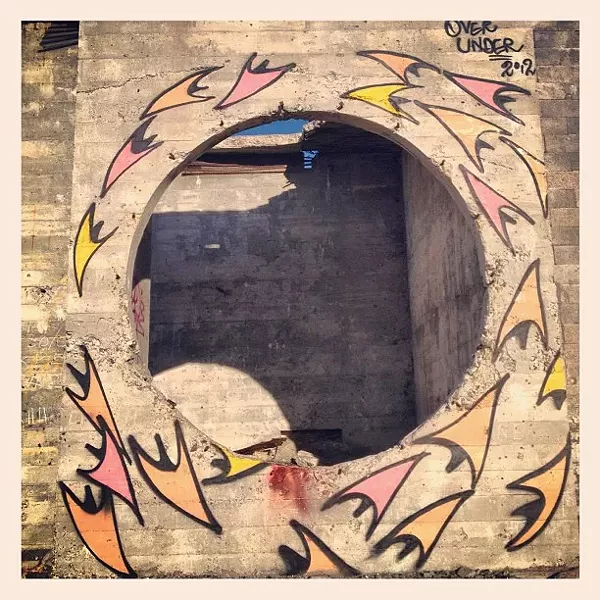 Stumbling upon such an art space feels very much like finding something that you know is special but don't really know why. So, I asked a friend of mine who is more schooled in the finer points of street art, and he ID'd the artists as Labrona and Over Under (aka OU33). I forgot all about it until two days later when this popped up outside of super remote Goldfield, Nev.:
It wasn't long until my friend tagged Over Under, whom I now know as artist
Erik Burke
of Reno, Nev., on Instagram, and he told me the story of putting this up in his underwear because it was so hot that day. The Internet is an amazing place, isn't it?
The works of Over Under suddenly seemed everywhere. Adamana, Ariz., there was this clever piece:
But, wait, this time there was someone else with an art collaboration on display alongside Over Under off in the distance - Labrona:
And then, it all converged in this huge art installation I stumbled upon on the Diné (Navajo) people's land in Cameron, Ariz. I later came to understand this as the Painted Desert Project, hatched by an activist/artist/doctor Chip Thomas (aka Jetsonorama), who lives there.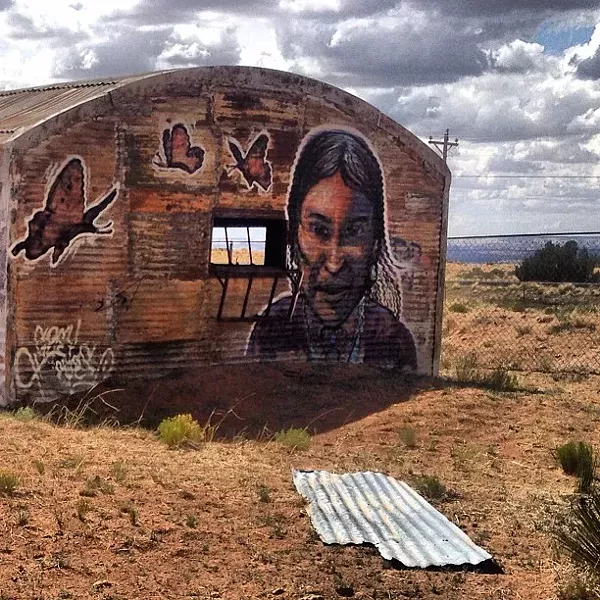 As I got closer to these buildings - there are tons of them with art, by the way - things just got better and better:
Standing amongst these buildings, ones both beautiful in their destruction and in their existence, the feeling of being part of a community is heavy. Doing one last pass to look at a lone abandoned barn, things were suddenly familiar.
I realized I was experiencing the definition of art: something that is created with imagination and skill and that is beautiful or that expresses important ideas or feelings. Here, the art is a feeling of community, which augments the world around us. The true re-definition of street art, minus the street.
For more commentary, follow me on
Twitter @dbirdy,
for more photos peep my
Flickr
and to see all videos, subscribe to my YouTube channel
here!