Autumn is nearly here and I've never wanted a sunburn to stick around so badly.
Google Maps says the Kure Beach area is a four-hour drive from Charlotte, but in reality it's a little over three-and-a-half if you leave on Friday at lunchtime. As far south in North Carolina as you can go on Highway 421 with public beach access before hitting the historic grounds of Fort Fisher or Zeke's Island Coastal Reserve, it's perfect for a super relaxing weekend trip!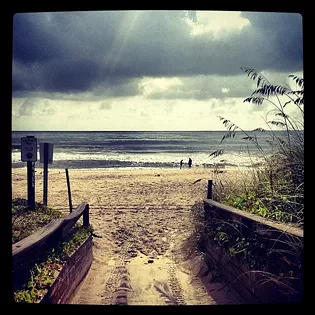 5 slides
The biggest lesson learned about this place is that rocks can bite just like bugs. Yowza! A short walk into the surf at mid-tide and I stumbled, literally, onto big, rough rocks. They'll tear your feet up, so beware. This beach may be more scenic and less popular than Carolina Beach (which is 20 minutes north), but if your priority is to not come out of the water bruised and bloody, you're going to want to avoid this particular spot. But surfing seems to be alright from the number of surfers out there.
The breakfast search was interesting first thing Saturday morning. Hot coffee can be found at Magic Beanz but finding anything by way of fresh fruit in a non-"sit down" restaurant was, well, special. No quick markets had fruit. What the deuce? In Charlotte, we're spoiled with apples and bananas by the registers. Not so much out there. What's the moral of this story? Bring your own.
But you can count on finding fresh fish in the area, that's for sure. Especially if you're after sustainable seafood — the Kure Beach area is great for this. Cape Fear Seafood Company is completely delicious and I'd certainly recommend it.
Wilmington is a short drive from Kure Beach, so we stopped there Sunday morning for breakfast. A great idea. I ordered the Huevos Verduras at Dixie Grill. I would've snapped a pic, but I was too busy shoveling delicious eggs, black beans, cheese and veggie skillet into my mouth. It's a strong statement, but it's easy to say it was one of the best breakfasts I've had in a long time. YUM. It looked like they had some cool local craft beers there for later in the day, too.
After breakfast is a pretty good time to jet back to Crown Town on Sunday morning. If you leave around 11 a.m., it puts you back here around 2:30 p.m., which is just enough time to get laundry going, get the sand out of your car, and sit for dinner at home. Out of 10, I give this (as a weekend getaway trip) an 8. Get out there right away if you're up for serenading summer just one last time!
Next up for 2012: The Qualla, California, Seattle, DC, NYC, Canada and Boston!