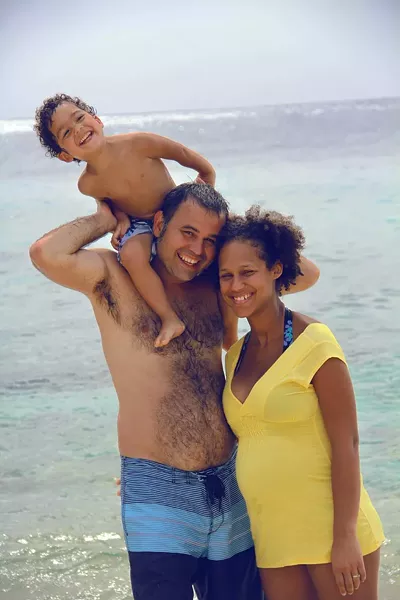 The Arreazas: Luki, Tony and Ailen
OK, so this is where this story picks up: I'm a twentysomething Charlottean who is 20-something weeks pregnant with my second child. Married to Tony, a pretty sweet guy (except when he's pestering me about leaving my shoes strewn across the living room floor again!), and mother of two-and-a-half-year-old Lucas (Luki, for short).
Here are ten other things you should know about me, in no particular order:
* Neither of my pregnancies was exactly planned and my initial reaction to both of them was complete and utter shock. Don't get me wrong, I love my kid, and I love this fetus in my uterus, but… upon seeing those two pink lines, my first thought was, HOLY CRAP! WHAT ARE WE GOING TO DO?!?!?, with a side of OMG, MY LIFE IS OVEERRR!!
* I was born in Cuba and Tony in Venezuela. We are hoping that at least one of our children will go into baseball or autocratic politics and lead us into early retirement. Also, we only speak Spanish at home. This is one of the few steadfast parenting decisions we've made: we want to raise bilingual children.
* It is my deep-rooted belief that mayonnaise is the foulest substance on the planet.
* My dad died, unexpectedly, two years ago. It sucked; it still does. I'm not over it; I'll never be.
* This is not my first foray into blogging. I blogged here for about a year and a half and then quit for no real reason. It started off with me documenting the very end of my first pregnancy and the first few months of Luki's life and then got all sad and depressing when my dad died. Things never really got cheery over there again.
* The reason I started blogging in the first place is that, back when I was pregnant with Luki, my mother replaced her perfectly working washer-and-dryer with a new model that had a "Baby Wear" function on it so she could sanitize her unborn grandchild's clothes properly. I just felt like the world really needed to hear that story.
* Speaking of sanitizing, I, more often than not, wipe my son's nose with my shirt sleeve.
* My socks usually don't match, I don't iron my family's clothing, and I rarely finish what I start.
* Motherhood is the only thing I've never considered quitting.
* I still occasionally make it out to the Neighborhood Theatre, get buzzed (when not pregnant), and sing along, albeit somewhat off-key, to Rock en Español.