I think there's a holiday tomorrow, but I really don't have time to worry about it. It's rivalry week in college football and all of my thoughts are with the Auburn Tigers. As an alum, I root for the Tigers every weekend of college football, along with whoever's playing Alabama. This week, those teams are one in the same.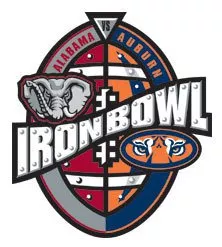 To say the Auburn-Alabama game, commonly referred to as the Iron Bowl because of the steel-town history of Birmingham, Ala., is a huge understatement. This year, people are calling it the "mother of all Iron Bowls," as No. 1 Alabama travels to No. 4 Auburn.
Holy crap, is it Saturday yet?!?
You could compare the Auburn-Alabama rivalry to Duke-UNC, but I'm not sure that one even comes close. After all, one Alabama fan tried to kill an Auburn tradition by killing a couple of trees. (Auburn fans would "roll" the Toomer's Corner oaks after each victory.)
Auburn-Alabama is a rivalry that holds true 365 days a year. They say children in those parts are asked on the first day of school which team they pull for. I have friends from college who were Alabama fans who still talk smack with me year-round. They bring up last year's shutout; I bring up Auburn's comeback from being down 24-0 thanks to Cam Newton. They bring up back-to-back national championships; I bring up that time in 2007 when they lost to Louisiana-Monroe. I could go on and on, complete with degrading nicknames...
But this year is different. This year, the trash talking leading up to Saturday's game has been more timid. Why? Probably because no one really knows what to expect. Alabama has beaten up on opponents each week, though they recently stumbled against Mississippi State. Auburn, who was 3-9 last year without one in-conference victory, has shocked just about everyone by going 10-1 so far this year thanks to a new coach - Gus Malzahn - a fierce running game and one helluva lucky catch against Georgia.
The winner goes to the SEC Championship game. An Auburn win bumps Alabama from their third-straight national title game and opens the door for a potential national title game for the Tigers. An Alabama win lets them continue their road toward the BCS title, again.
Can Alabama stop Auburn's rushing offense? Can Auburn slow down Alabama's multi-faceted offense? Is is Saturday yet?!?