Found: Pisces Sushi Bar & Lounge
Ingredients: McLeod Farms, S.C., peach juice, homemade sweet basil simple syrup, Lillet Blanc, Cardinal Gin. Carbonated and garnished with a grilled peach round.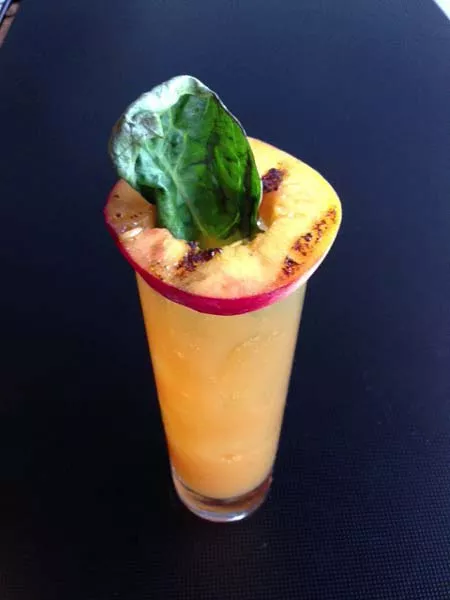 If you thought the summer of '69 were the best days of your life, the soundtrack to your summer is about to change. "Generations to come will refer back to this one as the summer of carbonation," Pisces bartender Bob Peters jokes. He recently started experimenting with bubbles and the outcome is delightfully effervescent.
Pisces is, to our knowledge, one of the first joints in town to don and use a carbonator system. The geek chic cocktail device churns out some of the best summer sips you can imagine, with a little sparkle to excite the palette. From what started as something Peters found "fascinating, terribly interesting and fun," is now available for the taking in a highball glass at Pisces. The Carolina Peach is the epitome of a poolside sip and is almost too easy going down.
"I think it screams summertime. It screams summer drink, summer cocktail. I'm not sure how it's going to work in the winter but I'll figure something out," Peters added.