Shortly after Charlotte artist Osiris Rain was tapped by the international brewing company Stella Artois to paint a promotional mural on the side of a building at 35th Street and North Davidson, the 31-year-old decided to unwind one afternoon with a little skateboarding.
"I figured I'm going to go out and enjoy myself before I really put my head down and start working on the design," Rain remembers.
Bad idea. He cracked his ankle in two.
"I was doing a pretty easy stretch, and — it was a fluke," Rain says. "All my weight was displaced, and something went in the wrong direction."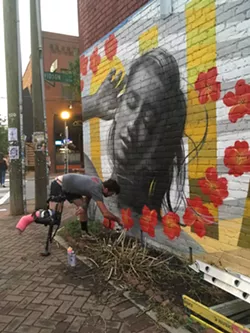 Old Peg Leg works on the mural. (Photo by Teresa Hernandez)
Luckily, Rain had a few weeks of design and prep time to prepare for the mural, so a cast was put on his leg and he was able to get the feel of working in it. What's more, a friend, who'd also suffered an ankle injury, gave Rain an interesting gift.
"It was a sort of pirate cast that folds the leg up and looks like a peg leg," the artist says. "So there's a couple of photos floating around of me on the ladder with this sort of peg leg and a bright pink cast."
Creative Loafing caught up with Rain in his NoDa studio, surrounded by casts of classical faces and the original canvas of An Unbearable Darkness, the artist's 2015 experimental, Carravagio-esque study of his father that now hangs in the Museum of Modern Art in Barcelona, Spain.
Creative Loafing: The tale of how you created this mural in the midst of blinding agony is already urban legend. How'd you do it?
Osiris Rain: I didn't have a choice. [laughs] I had six days. I started by blasting the entire wall out with a sprayer. I was up on the ladder, in a peg leg, for the entire time, from July 15th to the 21st.
That was Charlotte's hottest week this year, right?
Oh my God. [shakes his head] The heat index was like 115 degrees. You can't drink enough water or have a big enough hat on. It was a nightmare. And then add to it this sweaty cast, which probably would have made the best hobo stew by the time it came off. It was just brutal. I got about three-quarters of the way through, then I got a really bad heat stroke about three days into the process. So I had to call in some help from my brother, Adam Schaefer, and another muralist, Nick Napolitano. I still had to climb ladders, but I didn't have to go 100 miles an hour for 16 hours a day. Usually, a week is no problem for a mural that size, but just the complication of being broken, that made it not so easy.
You're known for your classically influenced works, so doing murals is a recent left turn for you, isn't it?
I used to be a scenic artist for television and film [where] I did murals, but they tended to be time-period specific — not a whole lot of creativity. But that really got me into the joy of being outside and not holed up in a dark room. I was hooked immediately.
It's a strange transition, because not until the beginning of this year had I ever worked digitally. I used to do everything on paper. It was a bit of a learning curve, but it was a lot of fun being able to handle the breadth and speed you can work at when you're operating digitally. It's a new path for me. Working on the computer feels like I have an office job, because I'm either out on a job or in here.
What's on the books for you now?
I got this awesome job at this apartment complex being built next to the Music Factory. I'm designing this mural for the transition into their mail room. I've become sort of obsessed with these black-and-white figurative pieces, accented by really bold touches of color. I just love the contrast, and it brings your attention back to the figure and achieves this sort of intimacy.
Between you, Napolitano and a few others, NoDa is looking great. Any future plans to keep that up?
We're trying to create a community pool [for] a local business or an individual [who] can't afford a mural. It'd be like a GoFundMe, where you can put in $20 [or] $100 and create this community pool for the next mural. We got some pushback on the Stella mural about an international brand being put into the arts neighborhood, which is understandable. It's also understandable that artists have to eat.